Bringing the Flavor to You!
From a quick bite at work to delicious treats at an event, KnucklHed BBQ is proud to serve a variety of meal options all around the Kalispell, MT area. Our location and menu change daily to keep your taste buds guessing. Check out our daily menu and keep up with us on social media for more information. Need more information about our catering or event rates? Contact us today for additional details or to schedule your next event.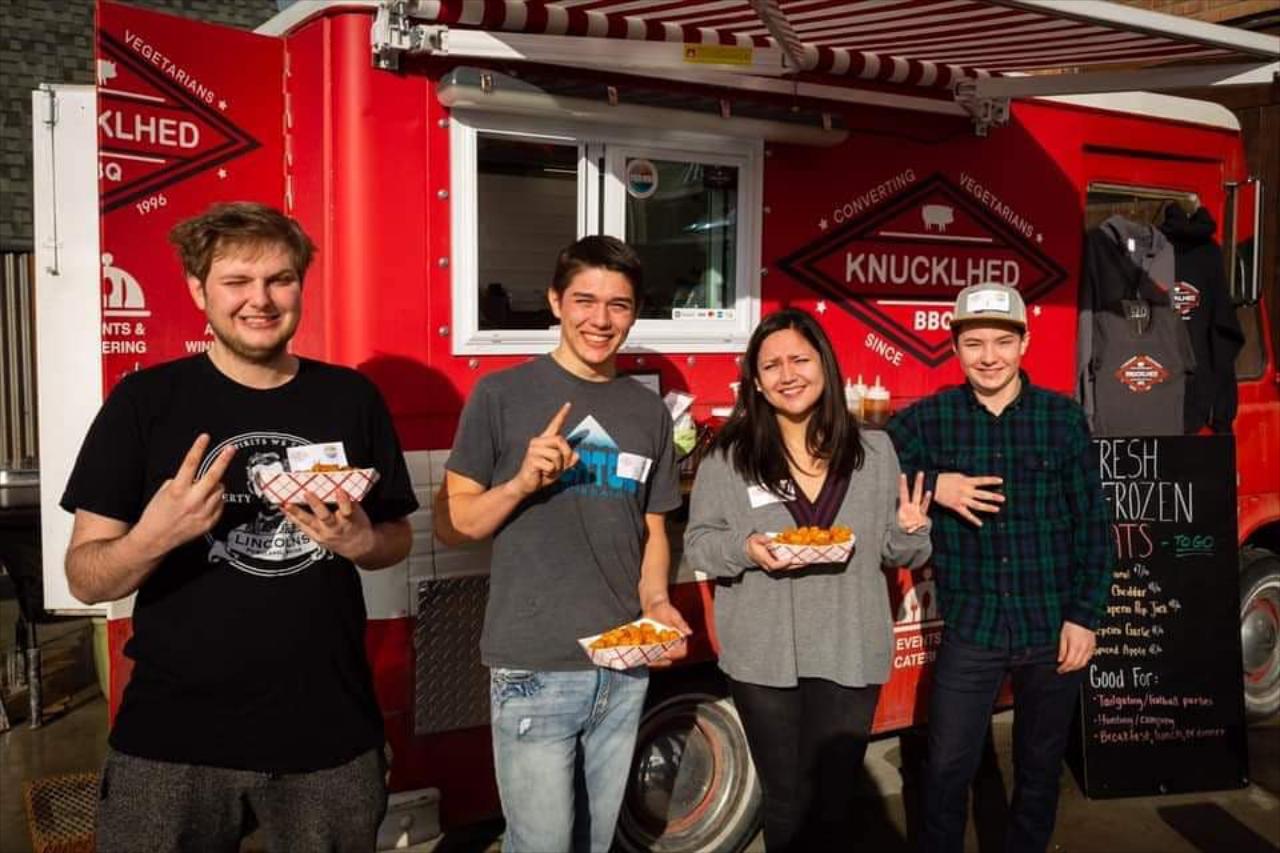 Is the K silent in Knacho? Not-cho typical nachos –

Your choice of tots, fries or freshly popped pork rinds topped
with house made beer cheese sauce, smoked pork and your
choice of toppings from the condiment bar. Sub smoked beef
Bratwurst – Rotating menu Item
This Week's handmade brat flavor – Traditional.

Served on a toasted hoagie roll and your choice of toppings and
house made beer mustard at the condiment bar.
Smoked Pulled Pork Sammich
We start with choice cuts of pork shoulder and a healthy dose of
our house made rub, then treat it to a nice long smoke over real
hickory wood & charcoal. A generous portion of pulled pork on a
toasted sandwich roll. GF without the roll.
Beef shoulder smoked over mesquite until tender and fallin'
apart, served on a toasted sandwich roll. GF without the roll.
Gooey mac & cheese made with our house made cheese sauce.
Top it off with smoked beef or pork
Tater tots (GF), French fries or freshly popped pork rinds (GF).

Pork rind seasoning options: Salt & Vinegar, Chili Lime, Garlic
Parmesan, Sweet & Spicy BBQ.
Add a side of beer cheese sauce to any
Request Our Food Truck for Your Next Event!
Tuesday
9:00 AM - 5:00 PM
Wednesday
9:00 AM - 5:00 PM
Thursday
9:00 AM - 5:00 PM